Squalane Articles:
Squalane for Moisturizing Skin
Squalane – a natural skin moisturizer is highly promoted by Dr. Susan Lark. The other year I had received a brochure with Squalane product info from Dr. Lark. The brochure tells about a true story from Linda Werner, product manager at Daily Balance, on her experience with Squalane skin moisturizer. Below is Linda's story and the Squalane information excerpts that I've gotten from the brochure. . .
Scroll down to read the full article:
Squalane – Natural Skin Moisturizer ↓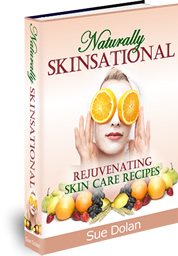 Click Here
Read what Linda says:
How I nearly started an office riot with a single drop of this crystal-clear nutrient. Here's how it works and how it can help you transform your aging skin overnight.
It was called Ocean Actives Squalane (pronounced Squa-LON).
What the heck is squalane?
The bottle was sent to me by Dr. Susan Lark, one of America's most recognized and respected anti-aging specialists. I've worked with Susan for years, and she's become a treasured, trusted friend.
Susan attached a little note to the bottle with a red ribbon, and here's what it said:
"Dear Linda,
I never really believed in magic, but I do now. Just a drop or two of this amazing nutrient before bedtime will positively transform your skin forever. You just won't believe how soft, supple, and glowingly gorgeous your skin can be after just one application. I have emptied my medicine cabinet of all the expensive stuff forever. This is all I use now. And my skin hasn't looked this great since I was 35!"
Signed: Susan Lark, M.D.
Wow! Susan is the absolute voice of reason when it comes to healthy living for women, so I just had to try the Squalane immediately.
The very next morning, when I walked into the office, the heads turned and the questions began…
"My word, Linda, did you have your face done? Your skin looks gorgeous!"
"Linda, you look a dozen years younger today, what's your secret?!"
So I told them about Squalane, and I showed them the note from Dr. Lark.
Naturally, every woman in the office wanted to try it immediately. The next day, everyone came back for more. Then the next day…and the next day…and the NEXT. Then the unthinkable happened: I left the bottle at home and forgot to bring it in for everyone else. Oops! Not good.
That morning, I had four women standing before my desk. They looked absolutely fabulous. But they weren't smiling. They just couldn't imagine being without this remarkable product for even a single day.
Squalane – Best Skin Moisturizer
Lauren looked 10 years younger and I'd swear that her fine lines and wrinkles were fading away…
Paula has always had sensitive skin, and she just adored the fact that the Squalane didn't leave her skin feeling oily at all. Instantly, she said her skin felt moist and youthful.
Sandy said her husband and kids noticed the difference immediately. "When they noticed the improvement, I was stunned!" she laughed.
Jennifer has combination skin and she was just gushing! "I think of all the money I wasted on those expensive creams, and I want to cry. I have never experienced such a positive improvement so fast," she told me.
There was one thing they all agreed upon: They wanted more! But since the product had just been launched…you just couldn't buy Ocean Actives Squalane at the cosmetics counter on the way home from work. (And you still can't do that, even today.) Yes, back then, I had the only bottle.
That's when we all realized that this product must be brought to the general public. The sooner, the better. So I called Dr. Lark and we got all the details. And I'm proud to say that we have arranged to bring Ocean Actives Squalane to the general public at the lowest possible price—a teeny tiny fraction of what you probably pay for your current collection of anti-aging products. Plus, we guarantee that you don't risk a single penny when you try Squalane.
Give your skin what it needs to look younger, healthier, and smoother. Discover the Nature's Amazing Miracle Beautifier here
Read Next: » Benefits of Squalane : Almost Instant Results
Excerpts taken from: MD's Journal of Youth Extension (Dr. Susan Lark, Anti-Aging Specialist) pp. 2-4
Note: A testimonial represents the experience of one individual. Results may vary.
WARNING: Anyone with a known allergy to fish products should consult a health care professional prior to application of this product.
Squalane – More Information
More Online Searches on Squalane
squalane oil | squalane wikipedia | squalane skin care | squalane wiki | squalane skin oil | squalane products | squalane acne | squalane reviews | squalene moisturizer | squalene olive oil