Last week I've posted 2 articles from US News about Ritalin's effects on adhd child. You can find the exerpts in  Related Articles section below, in case you landed first here on this web page as you are searching about Ritalin's effects.
Ritalin Effects on ADHD Child: Warning to Parents
I have gotten this Ritalin effects information from the book: Prescription for Nutritional Healing p. 232, by Phyllis A. Balch, CNC.
The prescription medication methylphenidate (Ritalin) has become the most commonly prescribed medication to ease hyperactivity. Researchers are discovering, however, that this medication has many potentially serious, long-term side effects including:
decreased appetite,
weight loss,
insomnia,
slowed growth,
increased heart rate,
increased blood pressure,
a period of increased irritability and intolerance at the onset of use,
and the possibility of developing of Parkinson's disease.
Adverse reports have been released in recent years warning parents of the possible side effects of Ritalin — with some reports even comparing it to cocaine.
Other ADHD Medications: Various Side Effects Reported
Other prescription medications often prescribed include:
detroamphetamine (Dexadrine, a stimulant that produces calming effects equivalent to Ritalin),
pemoline (Cylert, a stimulant that has been restricted by the FDA to use as a secondary medication because it can cause liver failure),
metamphetamine (Desoxyn),
amphetamine-detroamphetamine combination (Adderall),
and tricyclic antidepressants (if depression is suspected).
For periods of extreme anger and aggression, a tranquilizer called thiordazine (Mellaril) may be prescribed, but it should be used only as a last resort.
Various side effects, some of them serious, have been reported with all of these medications.
Other ADD/ADHD Medications and Ritalin Effects on ADHD Child: Masking the Symptoms
Due to the many potentially harmful side effects of the medications available for ADD/ADHD sufferers, a growing number of parents and health professionals are turning to all or a combination of the following as a way to reduce, and even possibly eliminate the symptoms of ADD/ADHD:
alteration of diet,
vitamin and mineral supplementation,
herbal remedies,
counseling,
and the love and support of family, teachers, and friends.
Many believe that medicating the problem is merely masking the symptoms without getting to the root of the problem.
Minimizing ADHD Medication and Ritalin Effects on ADHD Child
Health Tip: Taking ADHD Medications
(HealthDay News) — Medications prescribed to treat attention-deficit hyperactivity disorder (ADHD) may effectively manage symptoms, but they can also cause a number of side effects.
The American Academy of Family Physicians offers these suggestions to minimize side effects caused by ADHD drugs:
Related Products


Bright Spark:
Homeopathic remedy temporarily relieves hyperactivity, distractibility and impulsiveness in children

Get More Information on BrightSpark for Child ADD and ADHD here


Focus Formula:
Supports concentration and attention, while promoting normal energy levels in children and adults

Get More Info on Focus ADHD for Children and Adults with ADHD here.


Brain Tonic:
Homeopathic remedy temporarily relieves forgetfulness and mental fatigue, plus improves brain functioning

Get More Information on Triple Complex Brain Tonic Tissue Salts here.
Take only the minimal dose necessary to control your symptoms. Speak with your doctor about determining the right dose for you.
If you have stomach upset, take your ADHD meds with food.
As long as your doctor says it's OK, consider the weekend "drug-free days" when you can skip your medication.
If ADHD meds cause undesired weight loss, add healthy snacks to the day's menu.1
1 Health Tip: Taking ADHD Medications – US News and World Report
Related Articles: Ritalin Effects on ADHD Child
Just when parents thought they could spend a week or two not worrying about the health effects of Ritalin, Adderall, and other drugs used to treat attention deficit hyperactivity disorder, another study comes along to raise the question once again: Are the medications used to treat ADHD safe enough for kids? Again, the answer is: Probably.
Read here » Ritalin Effects on ADHD Child: Is Ritalin Too Risky for Children With ADHD?
ADHD treatments that don't involve medication have a proven track record. Parent skills training has been used for years to improve the behavior of the ADHD child. . . The use of parent training as a behavioral intervention for ADHD has no side effects.
Read here » ADHD Medication: Can Your Child Go Without?
If your child has been diagnosed with ADHD, chances are you are looking for an answer so that your child doesn't have to take Ritalin or another prescribed medication. Before trying any natural herbal remedies, you should rule out other things that could be contributing to your child's ADHD behavior.
Read here » ADHD Herbal Remedies for ADHD Child
End the ADD/ADHD Nightmare and
Say Goodbye to Dangerous ADD/ADHD Drugs for Good!
Download Your Copy Today –
ADD/ADHD Natural Remedy Report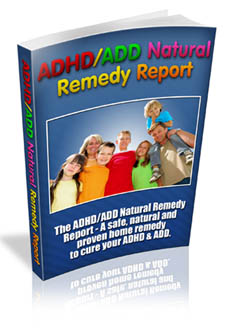 Click Here!
More Online Information: Ritalin Effects
Few Brain Side Effects In Ritalin Study -CBS News

Ritalin, a drug used to treat attention deficit hyperactivity disorder (ADHD), may not leave long-term side effects on the brain, a new study shows. The Ritalin side effects study, published in The Journal of Neuroscience, was conducted on rats, not people. ADHD is typically diagnosed in children, and Ritalin is one of the most commonly prescribed ADHD drugs, Milner's team notes.
www.cbsnews.com/stories/2007/07/03/health/webmd/main3014389.shtml
Ritalin (methylphenidate) Side Effects and Abuse

Ritalin, the most frequently prescribed stimulant drug for Attention Deficit Disorder, has been the focus of much controversy. This controversy includes harmful Ritalin effects, Ritalin abuse (including snorting Ritalin), Ritalin addiction and other Ritalin side effects.

There are few people in the United States who have not heard of Ritalin. It's the brand name for a drug called methylphenidate and the ADHD drug of choice for physicians treating Attention Deficit Disorder. Every day five million children in America line up for their daily dose of Ritalin.

Since Attention Deficit Disorder hit the mainstream in the 1980s, prescriptions for Ritalin have skyrocketed. So have reports of children snorting Ritalin, Ritalin abuse and harmful Ritalin effects.
http://www.add-adhd-help-center.com/ritalin_side_effects.htm
ADHD and Ritalin & medication
What are the side effects of Ritalin?

As with any drug, there are side effects with the use of Ritalin. Some users will experience little or no side effects, while others may have to discontinue its use due to them. Some of the more common side effects include insomnia, decrease in appetite, headaches, stomach aches, and irritability. Whenever a child begins using Ritalin, close observations need to be made. Many doctors recommend that the child start the dosage on the weekend so that parents can see how the medication will affect the child.
http://www.essortment.com/all/adhdritalinmed_rfzt.htm
Searches related to: Retalin Effects and ADHD Child
ritalin effects on normal people | ritalin effects on non add | ritalin effects on the brain | ritalin effects on adults | ritalin effects on the body | ritalin effects on adhd | adhd retalin | adhd ritalin side effects | ritalin attention deficit disorder | adhd child test | adhd children | adhd children medication | adhd children treatment | adhd child diet