Nancy Shute, USNews —  Are Ritalin and other stimulant drugs too risky for children? That's the question raised by new research that found a higher risk of sudden death in children taking stimulants for attention deficit hyperactivity disorder. I wrote about that study yesterday, but it's worth an update because the issue continues to be so confusing and controversial. And Madelyn Gould, the author of the study in the American Journal of Psychiatry, gave me practical advice for parents of the 2.5 million children who take stimulants for ADHD. Her recommendation: Stay the course, but make sure your children's doctor is taking all the recommended steps to screen for the heart problems associated with sudden death.
The Food and Drug Administration asked Gould, a professor of clinical epidemiology in psychiatry at Columbia University/New York State Psychiatric Institute in New York City, to investigate the safety of ADHD drugs after a handful of deaths were reported in children, starting in the 1990s. It would be the first rigorous attempt to figure out whether there's a real risk. Gould examined death records of 1,128 children from 1985 through 1996. She found that children taking stimulants were seven times more likely to die than children who were not taking the drugs.
Related Products


Bright Spark:
Homeopathic remedy temporarily relieves hyperactivity, distractibility and impulsiveness in children

Get More Information on BrightSpark for Child ADD and ADHD here


Focus Formula:
Supports concentration and attention, while promoting normal energy levels in children and adults

Get More Info on Focus ADHD for Children and Adults with ADHD here.


Brain Tonic:
Homeopathic remedy temporarily relieves forgetfulness and mental fatigue, plus improves brain functioning

Get More Information on Triple Complex Brain Tonic Tissue Salts here.
There are methodological limitations to her study, including the fact that parents reported their children's medication use after the children had died, and therefore might not remember correctly whether the kids were taking stimulants. Nevertheless, Gould thinks the stimulant-associated risk she found is real, rather than a statistical fluke. Still, she says, the fact that the risk is real doesn't mean children should stop using stimulants that have been prescribed to them.
"We don't want to make parents so scared that they would take their children off ADHD medications," Gould told me. "Perhaps physicians will consider more seriously the idea of monitoring for heart problems or check for drastic blood pressure changes. The very last thing we would want is for a parent to take a child off medication that is working for them."
Instead, Gould says, her findings underscore the value of the current clinical recommendations for reducing risk of death with ADHD drugs: Children should be carefully screened for heart problems before taking stimulant medications and monitored while taking them. "Parents should take comfort in good clinical practice and not be reluctant to put their kids on medication," Gould says. In other words: Doctors need to do their jobs.
The FDA and the American Academy of Pediatrics say that doctors should screen children for heart problems before they're prescribed stimulants for ADHD. Screening should include:
Taking a medical history for cardiovascular disease in the child and his or her family.
Performing a physical exam with special focus on the cardiovascular system (including examination for signs of Marfan syndrome, a hereditary disorder that increases the risk of heart problems).
Considering further tests, such as a screening electrocardiogram and echocardiogram if the history or examination suggests underlying risk for or the presence of heart disease.
What's next? A new study on the risks of ADHD drugs in children is underway, and information from that should be available next year. It's funded by the FDA and the Agency for Healthcare Research and Quality. But because of its design and limited size, it might not be able to pick up on stimulant-related deaths. The bottom line is that all drugs carry some risk. The hope is that the work of Gould and other researchers will make it easier to weigh the risks posed by these drugs against the benefits and help parents decide when medication is worth using for their child. 1
Related Articles on ADHD:
If your child has been diagnosed with ADHD, chances are you are looking for an answer so that your child doesn't have to take Ritalin or another prescribed medication. Before trying any natural herbal remedies, you should rule out other things that could be contributing to your child's ADHD behavior.
Read here » ADHD Herbal Remedies for ADHD Child
Just when parents thought they could spend a week or two not worrying about the health effects of Ritalin, Adderall, and other drugs used to treat attention deficit hyperactivity disorder, another study comes along to raise the question once again: Are the medications used to treat ADHD safe enough for kids? Again, the answer is: Probably.
Read here » Ritalin Effects on ADHD Child: Is Ritalin Too Risky for Children With ADHD?
ADHD treatments that don't involve medication have a proven track record. Parent skills training has been used for years to improve the behavior of the ADHD child. . . The use of parent training as a behavioral intervention for ADHD has no side effects.
Read here » ADHD Medication: Can Your Child Go Without?
1 ADHD Medication and Sudden Death: How to Avoid the Risk – On Parenting (usnews.com)
End the ADD/ADHD Nightmare and
Say Goodbye to Dangerous ADD/ADHD Drugs for Good!
Download Your Copy Today –
ADD/ADHD Natural Remedy Report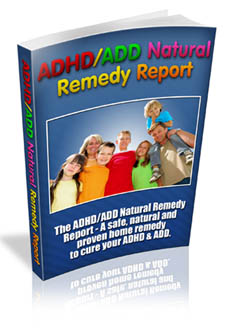 Click Here!