Examiner.com Today it is not uncommon for children to be diagnosed with ADD / ADHD. Attention Deficit Disorder may be diagnosed with or without hyperactivity. These disorders affect children and adults alike and are characterized by an inability to focus and a tendency toward impulsive behavior. Although diagnosed as a psychological condition, ADHD is becoming quite common and doubts have arisen as to whether it is properly characterized as such. The characterization of this disorder allows doctors and psychologists to prescribe medication for the condition. Often, educators will recommend that children be tested for ADHD if they are disruptive or demonstrate an inability to learn in the traditional fashion. This results in various diagnoses of and pharmacological treatments for ADHD in young people.
Is medication the right course of action for this common phenomenon? Before we decide whether medication is appropriate it is necessary to take a look at just what the medication is. One of the most common prescribed drugs for ADHD is Ritalin. Ritalin is the product brand name for methylphenidate, which is a stimulant with properties similar to amphetamines, methamphetamines and cocaine. Without further exploring the details of these drugs, it is clear that providing them for children is a dangerous and scary proposition. Young children should not be asked to take drugs that could alter their body chemistries indefinitely to suit society's need for calm, obedient children.
There are other options. Careful diet and daily routine adjustments, as well as visitation to natural and holistic professionals have proven successful in many, if not a majority, of cases. Here in Jacksonville, Dr. Schaeffer-Pautz of Persephone Healing Arts Center has experience treating children and adults who experience ADD/ADHD symptoms, taking their individual needs into account. Her treatments are safe, natural and unique to the individual. Aside from locating a professional, there are some things that parents can do at home to try to help improve the condition of a hyperactive or ADD diagnosed child.
Limit and or eliminate television
Most pediatricians agree that children under 3 should not watch television. Television for children over 3 years of age should also be limited if not eliminated as well. Television creates an atmosphere where children's imaginations are not necessary. Therefore children who watch an extreme amount of t.v. lose their ability to play independently, expecting to be constantly entertained from the outside. This need to be entertained can also translate to an inability for children to focus and a lack of an acceptable attention span for their age group. Aside from causing focus, concentration and attention span challenges, television encourages inactivity in children. Lack of exercise and playtime can lead to obesity and health issues.
Eliminate processed foods
Processed foods that are often given to children can contain various different items that have been known to contribute to the ADD/ADHD phenomenon in children. Within processed foods such as chips, baked sweets, and many other items are preservatives, dyes, refined sugars and flours and many other ingredients that are not only difficult for a child's digestive system, but can also create chemical and sugar imbalances. Snacks such as vegetables and fruits will provide children with much-needed nutrients instead of undesirable preservatives and dyes. Since getting children to eat vegetables and fruits isn't always the easiest task in the world some preparation time might be in order to make it a bit more appealing. Apples or celery can be made more appealing if they have a nut butter spread over them or served on the side as a dip. Shredded apples and carrots with just a touch of cinnamon can make a nice salad for kids to enjoy. How about a smoothie with your child's favorite fruit?
Eliminate sugar laden drinks
Sodas and juices are hidden sources of calories, refined sugars, and high fructose corn syrup. Frequent spikes in blood sugar (especially true where refined sugars are concerned) tend to stress the body and, over time, can throw off the body's chemistry. The very best drink you can give your child is plain, clean and filtered water. Children who are used to receiving high sugar drinks will protest at first, but as other options become unavailable they will eventually grow to enjoy their water and opt to leave the sweet drinks behind, realizing their bodies feel better that way.
Related Products


Bright Spark:
Homeopathic remedy temporarily relieves hyperactivity, distractibility and impulsiveness in children

Get More Information on BrightSpark for Child ADD and ADHD here


Focus Formula:
Supports concentration and attention, while promoting normal energy levels in children and adults

Get More Info on Focus ADHD for Children and Adults with ADHD here.


Brain Tonic:
Homeopathic remedy temporarily relieves forgetfulness and mental fatigue, plus improves brain functioning

Get More Information on Triple Complex Brain Tonic Tissue Salts here.

Try an elimination diet for food sensitivities
Many children with attention deficit also have undiagnosed food sensitivities. Specific foods are not digested properly, causing an imbalance in their system. Parents can try eliminating the most common foods causing those sensitivities to see if children's behavior and or attention span will improve. Wheat, dairy, chocolate, corn, eggs, and soy are often found to produce reactions in children and adults. Parents can try eliminating all of these foods and adding them back one by one, or eliminating one at a time to see if improvement occurs. It is often a good idea to seek the aid of a nutritionist when attempting an elimination diet to make sure that a child is receiving proper nutrients while sources of the diet are being altered.
Find a source of essential fatty acids
Children with ADD/ADHD could be lacking in their essential fatty acids. Sometimes an indication is eczema or dry skin, other times there is no external indication. There are many types of fatty acids supplements that can be found at your local health foods store that are specifically made for children. Be sure to choose a brand that is tested for and guaranteed to be mercury free.
Try a probiotic
Probiotics replace the good bacteria in the digestive system to aid in digestion and distribution of essential nutrients. Yogurt can be a healthy source of probiotics and can be eaten or added to a smoothie. For those children who are dairy sensitive there are now many tasty yogurts that come dairy-free. Probiotics can also be purchased in capsule or powder form. Remember to buy organic to avoid exposure to pesticides, hormones and antibiotics.
As our children's guardians it is our job to see them safely through their transition to adulthood. We do this by using our instincts, knowledge, experience and community. As we teach them, so they will teach their children. It is important to note that an ADD/ADHD diagnosis does not and should not mean that our children are destined to be treated with pharmaceutical drugs. Many opponents of ADHD diagnosis argue that diagnosis is not an indication that something is amiss with those diagnosed, but that something has gone amiss in our society. The choice and the cure are in our hands.
Find More Articles Here on ADHD: ADHD Herbal Remedies for ADHD Child
End the ADD/ADHD Nightmare and
Say Goodbye to Dangerous ADD/ADHD Drugs for Good!
Download Your Copy Today –
ADD/ADHD Natural Remedy Report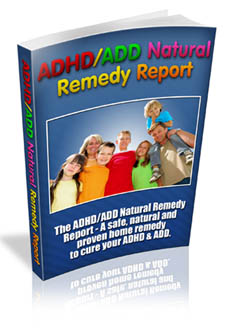 Click Here!