Balch's Diet ADHD Recommendations
Diet ADHD Tip: Feed the Brain
Phyllis Balch, author of Prescription for Nutritional Healing, has listed this "diet ADHD" in her book.
According to the author:  When you're dealing with an ADHD child, it is best to think of the diet as feeding the brain rather than the stomach. Many researchers believe that if the contributors are removed from the diets of the patients and the right nutritional supplements are added, numerous symptoms often disappear, and medications used to treat ADD / ADHD (some of which cause serious side effects) can often be eliminated.
Foods to Include in Diet ADHD
Include in the diet all fruits and vegetables (except for those containing salicylates, listed below), plus breads, cereals, and crackers that contain only rice and oats.
Include cold-water fish such as tuna, salmon, and herring in your diet.These are all good sources of docosahexaenoic acid (DHA), an essential fatty acid that is thought to be vital for brain development and is often deficient in those with ADD / ADHD.
Follow a high-protein diet (similar to hypoglycemia). Protein are needed to supply the body with amino acids. Some researchers are studying the similarities between hypoglycemia and ADD / ADHD. It is possible that a large number of ADD / ADHD diagnoses are in actuality hypoglycemia in disguise. The symptoms are so similar it is difficult to separate them. A low-carbohydrate, high-protein diet, particularly at breakfast, should assist in reducing symptoms if it is truly hypoglycemia.
Some studies have found that many children with ADD / ADHD have high levels of toxic by-products of yeast and other harmful bacteria in their urine. The use of probiotics (supplements that add beneficial bacteria to the body, such as acidophilus) can help to alleviate this problem.
Complex Carbohydrates Sources for diet ADHD
Be sure that your child is getting his or her carbohydrates from foods that contain complex carbohydrates and cut down on simple carbohydrates. Complex carbohydrates can be found in fresh vegetables, fresh fruits, beans and natural whole grains. They provide dietary fiber and have only a third of the calories found in fats and simple carbohydrates. Simple carbohydrates, such as glucose, fructose, and galactose, are found in all forms of sugars, some juices, and in processed and refined grains (not whole grains).
Limit Dairy Consumption
Limit dairy products if you notice behavioral changes after they are consumed. Dairy foods have been known to cause behavioral problems in some ADHD / ADD sufferers.
Foods to Avoid in Diet ADHD
Remove from the diet all forms of refined sugar (simple carbohydrates) and any products that contain it. Also eliminate junk food and all foods that contain artificial colors, flavorings, monosodium glutamate (MSG), yeast, or preservatives; processed and manufactured foods; and foods that contain salicylates. Certain foods naturally contain salicylates. These include almonds, apples, apricots, all berries, cherries, cucumbers, currants, oranges, peaches, peppers, plums, prunes, and tomatoes.
Do not consume any of the following: apple cider vinegar, bacon, butter, candy, catsup, chocolate, colored cheeses, chili sauce, corn, ham, hot dogs, luncheon meat, margarine, meat loaf, milk, mustard, pork, salami, salt, soy sauce, sausage, tea, and wheat.
Do not use antacid tablets, cough drops, perfume, throat lozenges, or commercial toothpaste. Use a natural toothpaste from a health food store.
Avoid carbonated beverages, which contain large amounts of phosphates. Phosphate additives may be responsible for hyperkinesis (exaggerated muscle activity.)
High levels of phosphorous and very low calcium and magnesium levels (which can be revealed through a hair analysis) can indicate a potential for hyperactivity and seizures.
Meat are also high in phosphorous.
Diet ADHD: Elimination Diet
Use an elimination diet to identify foods that may be causing or aggravating symptoms ADHD / ADD. 1
Related Products


Bright Spark:
Homeopathic remedy temporarily relieves hyperactivity, distractibility and impulsiveness in children

Get More Information on BrightSpark for Child ADD and ADHD here


Focus Formula:
Supports concentration and attention, while promoting normal energy levels in children and adults

Get More Info on Focus ADHD for Children and Adults with ADHD here.


Brain Tonic:
Homeopathic remedy temporarily relieves forgetfulness and mental fatigue, plus improves brain functioning

Get More Information on Triple Complex Brain Tonic Tissue Salts here.
Adding Essential Fatty Acids to Your ADHD Child's Diet
Your child's diet may play a major part in causing and overcoming this conditions. . .  Several studies point a connection between children with ADHD and an omega-3 fatty acid deficiency.
According to a paper published in Physiology & Behavioral (www.ibnshomepage.com) by a research team from a Department of Foods and Nutrition at Purdue University in West Lafayette, Indiana, boys with lower levels of omega-3 fatty acids in their blood showed more problems with behavior, learning and health than those with higher total levels of omega-3 fatty acids.
You may want to find out more about this and then consider adding flaxseed oil—the richest source of omega-3 essential fatty acids—to your child's daily diet. 2
1 Phyllis Balch, Prescription for Nutritional Healing, pp. 231-233
2 Sources: Joan Wilen and Lydia Wilen, Bottom Line's Healing Remedies, p. 212
Related Articles: Ritalin Effects and ADHD Child
Just when parents thought they could spend a week or two not worrying about the health effects of Ritalin, Adderall, and other drugs used to treat attention deficit hyperactivity disorder, another study comes along to raise the question once again: Are the medications used to treat ADHD safe enough for kids? Again, the answer is: Probably.
Read here »

Ritalin Effects on ADHD Child: Is Ritalin Too Risky for Children With ADHD?
ADHD treatments that don't involve medication have a proven track record. Parent skills training has been used for years to improve the behavior of the ADHD child. . . The use of parent training as a behavioral intervention for ADHD has no side effects.
Read here »

ADHD Medication: Can Your Child Go Without?
If your child has been diagnosed with ADHD, chances are you are looking for an answer so that your child doesn't have to take Ritalin or another prescribed medication. Before trying any natural herbal remedies, you should rule out other things that could be contributing to your child's ADHD behavior.
Read here »

ADHD Herbal Remedies for ADHD Child
End the ADD/ADHD Nightmare and
Say Goodbye to Dangerous ADD/ADHD Drugs for Good!
Download Your Copy Today –
ADD/ADHD Natural Remedy Report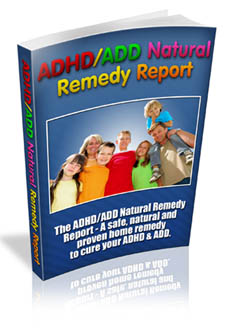 Click Here!
More Online Information: Diet ADHD
Diet & ADHD: Are There Links Between ADHD & Diet? | The Diet Channel
Research on diet and ADHD first began in the 1970s when pediatrician Ben Feingold claimed that ADHD, among other behavioral and health problems, could be improved by the elimination of certain food additives. Though some studies showed improvements in behavior on the Feingold diet, it was extremely restrictive and difficult to follow. However, the fact that some children did respond indicated that diet can have positive effects on behavior.
www.thedietchannel.com/Diet-and-ADHD.htm
ADHD Diet
Can Diet Make a Difference to ADHD? Most current scientific research indicates that only a small percentage of children will respond to a diet free of additives. However don't let this stop you from experimenting with dietary changes. At the very minimum an ADHD child should be eating 2 fish meals per week.
www.everydiet.org/diet/adhd-diet