Squalane Articles:
More Squalane, the Younger You Look
"…The Squalane really helps the lines seem less defined. When I first met my new-husband-to-be, he thought I was in my 30s. He was shocked to find out I had three daughters in their 30s and I was older than him!" —Debbie E, age 54
Remember when you were younger and your skin just glowed naturally? Well the reason for that glow was the natural oil in your skin. Scientists call it sebum. And it helps prevent "trans-epidermal water loss" — which is a fancy term for losing all the moisture in your skin. That's why, on a frigid winter's day, your skin seems to dry out so quickly.
Scroll down to read the full article:
Benefits of Squalane : Almost Instant Results ↓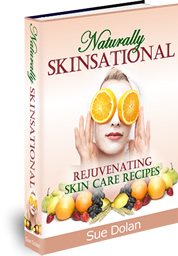 Click Here
Now here's the most amazing part of all: We now know that sebum is actually overflowing with squalane. And as you age, your skin's squalane levels begin to rapidly decline. For some women, this decline begins as early as their twenties.
But suppose your skin's squalane levels did NOT decline? Isn't it more than reasonable to assume that your skin would look smoother, healthier, and younger longer than Nature intended? Of course, it is.
Simply put. . . the less squalane you have in your sebum, the older your skin looks. The more squalane you have, the younger your skin looks.
Benefits of Squalane: Your Skin "Springs to Life" Almost Instantly"
When you apply Squalane to your skin, it seems to almost disappear immediately — with ZERO residue or build-up. It's almost as if you're skin recognizes that Squalane is a natural part of its structure.
Within seconds, your skin seems to "spring to life" and firm up. . . . Women reporting almost immediate results.
"Squalane instantly replenishes the glowy youthful look I had when I was younger. In fact, some people have guessed my age in the 30s or early 40s — and being over 50 years old, that's a great compliment!" —Victoria A., age 50+

 

"I noticed a difference immediately! All my friends compliment me on my beautiful skin!" —Roni M., age 68

 

"I noticed an immediate difference… My skin is really soft and moist!" —Cindy G., age 51
Results like these are no accident. When you gently apply a few drops of Squalane into your skin, you are replacing the lost nutrient your skin needs to look smoother, younger, blemish-free and undeniably fabulous.
Give your skin what it needs to look younger, healthier, and smoother. Discover the Nature's Amazing Miracle Beautifier here
Read Previous: « Squalane – Natural Skin Moisturizer
Read Next: » Squalane – Skin Care Solution for All Types of Skin
Note: A testimonial represents the experience of one individual. Results may vary.
WARNING: Anyone with a known allergy to fish products should consult a health care professional prior to application of this product.
Excerpts taken from: MD's Journal of Youth Extension (Dr. Susan Lark, Anti-Aging Specialist) pp. 4-6
More Information on Squalane
Related Searches on Squalane
squalene benefits | squalene | squalane oil | squalane skin care | squalane skin | squalane moisturizer | natural squalane | squalane for skin | squalane skin oil