Many of today's parents are looking for ADHD herbal remedies due to the side effects of Ritalin and other stimulating drugs which are affecting their ADHD child's health.
Attention Deficit Hyperactivity Disorder (ADHD) is a neurobehavioral condition that affects many school-age children (and some adults). It is characterized by inappropriate and distracting impulsivity, inability to focus (pay attention) and, in some cases, hyperactivity.
Scroll down to read the article:
ADHD Herbal Remedies for ADHD Child ↓
NOTE: The suggestions offered in this page: ADHD herbal remedies are not intended to replace appropriate medical treatment. The supplements and medications recommended should be approved and monitored by your medical doctor or trained health care professional.
If your child has been diagnosed with ADHD, chances are you are looking for an answer so that your child doesn't have to take Ritalin or another prescribed medication.
Before trying any natural herbal remedies, you should rule out other things that could be contributing to your child's ADHD behavior. For example:
Toxic-metal excess
Pesticides in the home
Behavioral issues in the home and at school
Malnutrition
Allergies (including those to sweets, milk and cheese)
Gluten intolerance
Related Products


Bright Spark:
Homeopathic remedy temporarily relieves hyperactivity, distractibility and impulsiveness in children

Get More Information on BrightSpark for Child ADD and ADHD here


Focus Formula:
Supports concentration and attention, while promoting normal energy levels in children and adults

Get More Info on Focus ADHD for Children and Adults with ADHD here.


Brain Tonic:
Homeopathic remedy temporarily relieves forgetfulness and mental fatigue, plus improves brain functioning

Get More Information on Triple Complex Brain Tonic Tissue Salts here.

Your child's diet may play a major part in causing and overcoming this condition. But you may not know that several studies point a connection between children with ADHD and an omega-3 fatty acid deficiency.
According to a paper published in Physiology & Behavioral (www.ibnshomepage.com) by a research team from a Department of Foods and Nutrition at Purdue University in West Lafayette, Indiana, boys with lower levels of omega-3 fatty acids in their blood showed more problems with behavior, learning and health than those with higher total levels of omega-3 fatty acids.
You may want to find out more about this and then consider adding flaxseed oil—the richest source of omega-3 essential fatty acids—to your child's daily diet. 1
ADHD Herbal Supplements
If you are giving herbs to an ADD/ADHD child, be sure to adjust the dosage for age as recommended by the manufacturer.
Bacopin from Sabinsa Corporation, an extract of the Ayurvedic herb bacopa (Bacopa monniera), is a good memory enhancer
Gingko Biloba is helpful for brain function and concentration
Ginseng or mullein oil may be helpful for memory
Valerian root extract has been used for this disorder with dramatic results and no side effects. Mix the alcohol-free extract in juice (as directed on the product label according to age) and drink the mixture 2 – 3 times a day.
Other herbs that may be beneficial for hyperactivity include catnip, chamomile, gotu kola, hops, kava kava, lemon balm, licorice, lobelia, oats, passionflower, skullcap, St. John's wort, thyme, and wood betony.
CAUTION: Do not use chamomile or lobelia on an ongoing basis. Avoid chamomile completely if you are allergic to ragweed. 2
Related Articles on ADHD
Just when parents thought they could spend a week or two not worrying about the health effects of Ritalin, Adderall, and other drugs used to treat attention deficit hyperactivity disorder (ADHD), another study comes along to raise the question once again: Are the medications used to treat ADHD safe enough for kids? Again, the answer is: Probably.
Read here »

Ritalin Effects on ADHD Child: Is Ritalin Too Risky for Children with ADHD?
ADHD treatments that don't involve medication have a proven track record. Parent skills training has been used for years to improve the behavior of the ADHD child. . . The use of parent training as a behavioral intervention for ADHD has no side effects.
Read here »

ADHD Medication: Can Your Child Go Without?
1 Sources: Joan Wilen and Lydia Wilen, Bottom Line's Healing Remedies, p. 212
2 Phyllis A. Balch, Priscription for Nutritional Healing, p. 231
End the ADD/ADHD Nightmare and
Say Goodbye to Dangerous ADD/ADHD Drugs for Good!
Download Your Copy Today –
ADD/ADHD Natural Remedy Report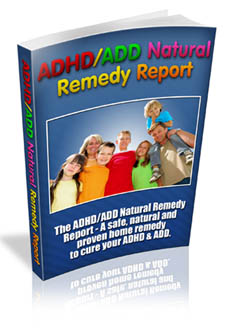 Click Here!
More Online Information on ADHD Herbal Remedies
ADHD Herbal Remedy | ADD ADHD Information Library
Effective Herbal Remedy for ADHD:
ADHD is often difficult to treat, and most symptoms of ADHD respond well to stimulant medications. However, we have found that stimulants, and other prescription drugs, are not the only effective interventions for ADHD. Many families are looking for a natural remedy, or a herbal remedy, for ADHD. After personally performing the clinical studies with dozens of subjects, over an 18 month period, we can tell you that this herbal remedy really is effective!
http://newideas.net/adhd/attend-alternative/herbal-remedy
What's new and effective in the ADHD Herbal Treatment?

The Advantages of ADHD Herbal treatment:
The use of herbs in the ADHD Herbal Treatment is of high interest to the many families and professionals looking for alternatives to drug therapy as no significant side effects are recorded. Phytomedicines (Herbal) as pharmacological alternatives in the ADHD Herbal Treatment. What is the most advanced ADHD Herbal Treatment?
www.natural-treatment-guide.com/adhd/adhd-herbal-treatment.html
Beat ADHD Herbal Remedies. Full List of Herbs for ADHD, Including Chinese Herbs

There are also many herbs for ADHD which can help balance the brain and nervous system, without side effects or sedation. ADHD natural remedies also support various functions of the brain, nervous system and circulatory system.

In fact, you can bet that any herbal remedy for ADHD will have other positive effects on physical & emotional health & no side effects!
www.herbalremediesworld.com/ADHD-herbal-remedies.html
Treatments for Children with ADHD: Herbal Medicine & Chinese Herbs
The use of herbal medicine in the treatment of ADHD is of high interest to the many families and professionals looking for alternatives to drug therapy. This interest has no doubt heightened in recent years due to problematic and near epidemic-proportion use of stimulants in children. The following review of an alarming trend to medicate ever-increasing numbers of school- and pre-school age children will help serve to emphasize the need for greater research into natural alternative treatments.


www.healing-arts.org/children/ADHD/herbal.htm
ADHD Herbal Remedies for Children and Adults with ADHD
ADHD herbal remedies are being used more and more today as a treatment for attention deficit hyperactivity disorder, as they provide many benefits that medication cannot provide, without having the associated side effects.


www.home-remedies-for-you.com/articles/462/alternative-health/herbal-remedies-for-adhd.html